Here's a stage by stage description of my latest painting; another in my series of British stereotypes. Having grown up in Cornwall, a fisherman in his 'yellers' was always on the cards. My first sketch looked like this:
As a kid I would quite often watch the fishing boats offloading in Newlyn and always found the older fisherfolk fascinating. I suppose, in that respect, I was no different from the artists of the Newlyn School of painting. They spent hours watching the daily life of people who depended almost solely upon the sea for their living. Among the artists was one of my great art heroes, Walter Langley. I've been in love with his work for as long as I can remember. And can you blame me? Look: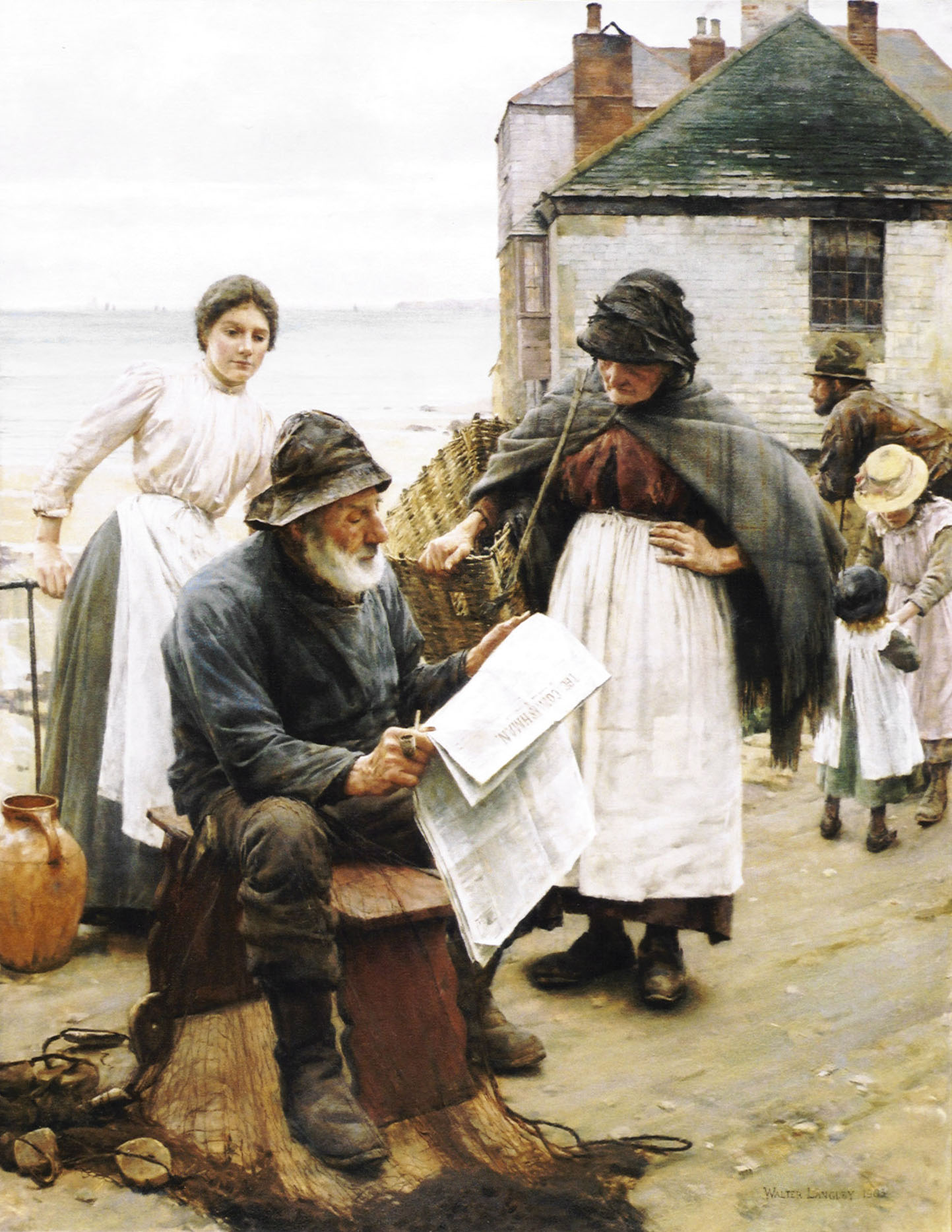 Beautiful isn't it? Almost social documentary in its unflattering reality. Go google his name and check out his work. And, if you find yourself at a loose end in west Cornwall one day, go see his originals at the Penlee House Museum in Penzance. I've spent hours in there.
Anyway, my fisherman was going to be far more silly and light-hearted than that. Social documentary? Pft. Not when I can stick a fish in someone's beard. So, I started off with pencil on canvas and a bit of a loose underpainting. Step 1 - Get rid of the white!
I quickly decided to dispense with the fish in the beard and have a stack of fish in the foreground to mirror my previous
butcher painting
. I also decided to have my fisherman smoking a pipe, maybe with the bowl emulating the bow of a ship with a little figurehead? Anyway, here I am at the end of Day 1 after an hour of painting...
Returning to it the next morning I could see that the eyes were wonky, the hands too small, the hat was the wrong shape and the moustache was fecking tragic. Sigh. Serves me right for painting last thing at night with terrible light and tired eyes. Day 2 was spent fixing most of the mistakes I made on Day 1.
End of Day 2 and I was feeling much happier. The hands were still wanky though. So, I photographed the painting, popped it into Photoshop and had a play around. I chopped bits out, added bits in and, an hour later, I realised that my best bet would be to get rid of both hands, make the pipe bigger and more ornate and hugely increase my pile of fish. So, on Day 3 ...

I painted out the hands, added a scarf, fattened the nose across the bridge and feathered the moustache and beard. Never be afraid to make big changes if it makes for a better painting! Then I marked out where the fish will be ... plus a big octopus. Maybe.
End of Day 3, and three more hours spent painting, and it looked like this:
Day 4 began with a shopping list of things to fix: the figurehead on the pipe needed her head lifting up and the scarf needed detailing, I decided to reduce the number of bags under Fishy's right eye to accentuate the squintyness (is that a word?) of his left. And then there were all those fish to paint. And a red octopus. Here's where I got to by the end of Day 4:
I should explain that when I say 'Day' I don't mean a solid eight hours of painting. I wish I had the luxury of time to do that. A 'Day' is actually a number of small, snatched moments in between work. For instance, 'Day 4' actually consisted of an hour's painting at lunchtime and another hour at 5pm before the light started to go.
I really started to hate that octopus. It just wasn't looking right. So I decided to put the painting away for a couple of days and come back to it fresh. Sometimes it's the best thing to do ... although not when you have a deadline. Thankfully, I don't.
Day 5 started four days after Day 4 when I'd had a weekend off and a trip to Glasgow to clear the cobwebs. First job was to paint out the octopus and block in the fish.
Then, detailed work on the fish. I quickly began to wish I hadn't included quite so many ...
But, end of Day 5 (and a lunchtime spent painting) and I was there. Hoorah!
So there we go - The Fisherman's Friends is completed. And what have I learned while doing this painting? Well, firstly, that it's okay to make drastic changes to your composition if it makes for a better painting. Secondly, that if you're painting in hot weather (as I have been), you can extend the life of your acrylics by adding a neutral water-based acrylic medium. Now, art shops will sell it to you in a fancy tube and charge you for a fortune for it. By far the cheaper option, if you're someone who doesn't get embarrassed easily, is to use KY Jelly.
Yes, that's right - the sexy lubricant. Odourless, tasteless, clear and water-based, it works brilliantly. And it's a quarter of the price of an acrylics medium. But if you don't fancy buying some from your local chemist, then you could always buy I online I suppose.
Me? I enjoyed seeing the chemist assistant's quizzical eyebrow.
Maybe I'll paint her next :)